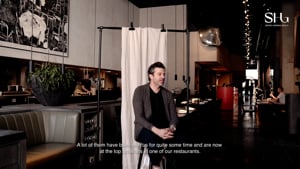 Careers
In our restaurants we are always looking for talent with a hospitality heart, people with a drive to succeed and who are willing to work hard to achieve this. The success of any organization always depends on the right people on the right positions and our organization is no exception.
In the past we have worked with people who were exceptionally talented, some of whom are now the cornerstones of our company. Others have joined the management or successfully pursued careers elsewhere, but without exception, these go-getters have brought our restaurants to where we are today.
That is why we are always looking for competent colleagues who can help us grow, enthusiastic people who want to push boundaries with us in terms of service and taste.
Thanks to the knowledge and experience that we have built up over the years, we are able to coach and inspire talents! Are you motivated and do you want to give direction to your career? Do you want to be part of a dynamic and international organization? Then respond today and hopefully we will work together on our future soon!
Antwerp (BE)
Blueness Antwerp
Le Pristine Café
Le Pristine Restaurant
Singapore (SG)