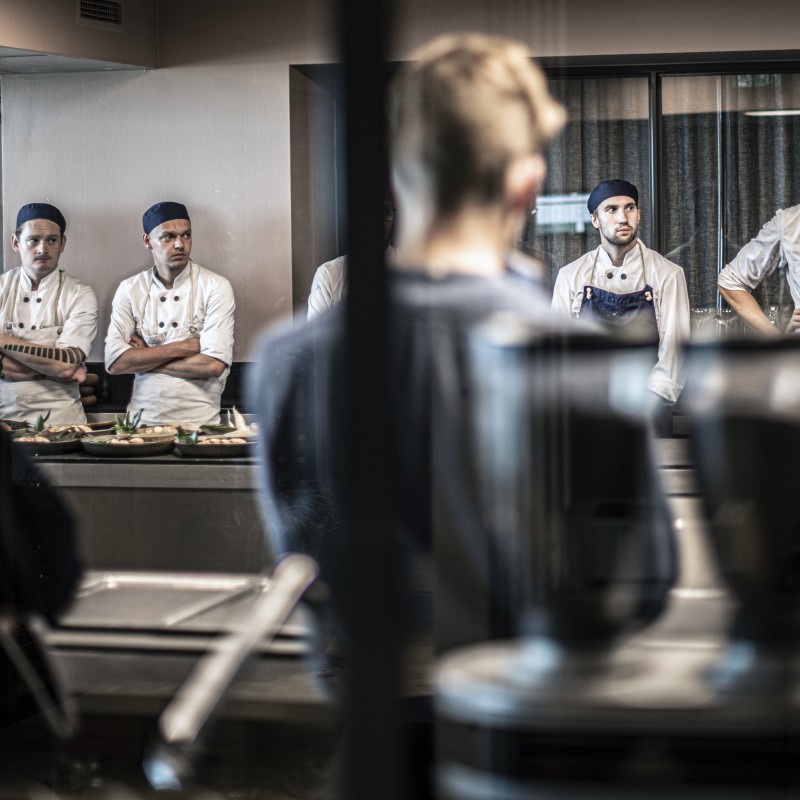 ABOUT
Sergio Herman is the strong and passionate force behind the Sergio Herman Group, one of Europe's most creative, unique and professional restaurant groups.
The Dutch cook and entrepreneur Sergio Herman who is known for his unerring sense of beauty and his love for Zeeland products, worked his ways for the past three decades through the gastronomic landscape of The Netherlands and Belgium.
Starting his career in his teens in the family restaurant Oud Sluis in Sluis, Sergio transformed this typical mussel restaurant from his parents into a unique culinary destination with high gastronomic expectations in a far corner of The Netherlands near the Belgian border. He had three Michelin stars since 2005 and was in the Top 50 of The World's 50 Best Restaurants for eight years.
Despite this success, Sergio decided to close the doors of Oud Sluis in December 2013 to focus on new projects. In 2010 Sergio had already opened Pure C, a fine-casual restaurant in the Dutch coastal town of Cadzand. Because of this, he came to the conclusion that it was more fulfilling to work with a team of specialists on the development of new restaurant concepts than to run a single restaurant, which he did for almost twenty-five years.
more about us
After opening Pure C in 2010, Sergio started The Jane in Antwerp and AIRrepublic and Blueness in Cadzand and Le Pristine in Antwerp with the same methodology and that is to train and mentor young and ambitious talents from the own pool of restaurants, to get them ready to be strong individuals who work as a team and hand them the opportunity to run their own restaurant.
Since 2015, Sergio co-founded the brand Frites Atelier, a fast-casual French fries' concept with roots in the traditional craftmanship of making this typical Dutch streetfood. Frites Atelier owns four locations under their own management and one franchise location in The Netherlands and Belgium.
Sergio's style of cooking is broadly known for light preparations, fresh accents and delicate acids. In recent years, he has increasingly shifted his focus from the reinterpretation of classic cuisine and the flavors of his youth to modern style of cooking with embracement of rich and different flavors of the world.
His predilection for other creative forms of expression has not changed: Sergio has been working closely with designers, deejays and artists for many years to make the experience in his restaurants unique!
In 2018 the Sergio Herman group was developed because of Sergio's desire to expand his brands internationally. John Jansen was appointed as the CEO of the Sergio Herman Group to unite a strong team of specialists to create space for new projects.
Professionalism and creativity join hands and deliver well-founded promises based upon the five pillars of the organization which are Food, Fashion, Design, Art & Music.
By establishing this group, Sergio Herman's boundless ambition and passion has found the space he needs to develop and raise his talent and versatility to new heights.
With unique culinary experiences, the Sergio Herman Group represents a diverse showcase of restaurantconcepts going from fast-casual to fine-dining and everything in between.
A partnership with Sergio Herman Group is always founded on a passion for achieving a unique and groundbreaking result. By exceeding expectations, we constructed the group's reputation with the assurance of 100% commitment from Sergio Herman and his dedicated team.
Michelin
1st 1995
2nd 1999
3rd 2005
Gault Millau
20/20 in 2013
50 Best restaurant magazine*
NO17 in 2011

Michelin
1st 2011
2nd 2018
Gault Millau
18/20 in 2022

Michelin
1st 2015
2nd 2018
Gault Millau
18/20 in 2019
50 Best restaurant magazine
No54 in 2016

Michelin
1st 2017
Gault Millau*
15,5/20 in 2019

Gault Millau
14,5/20 in 2019

Michelin
1st 2020
Gault Millau*
16/20 in 2020